This route picks up a bunch of minimum-maintenance dirt roads on the west side of Allen County, and on into Woodson County. These types of roads can be great fun, but are not recommended immediately after a rain, as they can be quite muddy.
The route begins on the Iola square, heads west on US-54 across the Neosho River (a nice wide paved shoulder), then takes off on gravel. After a couple of short climbs, the route hits North Dakota Road, which is gravel in Allen County, but turns into dirt once it reaches Woodson, where it's called 150th Street. At the very beginning of this stretch, the road crosses an intermittent stream, which may remain wet for awhile even if the rest of the road is dry.
West of Piqua, the route heads south to pick up 120th Street. West of Violet Road, this turns to dirt. The sign entering this section says "Bridge Out", but ignore that. A bridge is indeed closed, but is easily passable by bike.
The next section of dirt begins at 80th and Turkey Road, and runs for about 3 miles east and one mile south. The route briefly swings west and south, past the old Maple Grove Country Church (now a private residence) before picking up more dirt on Willow Road, then finding some hills before rolling into the flat Neosho River valley.
There are restrooms and water, as well as spectacular views of the waterfall and rainbow arch bridge, at the Neosho River Park, before the route crosses the river into Humboldt, where there are numerous options for food and drink.
East of Humboldt, the route winds through gravel roads, crossing Coal Creek on low-water bridges, and passing the Humboldt Speedway, before taking the Southwind Rail Trail back north to Iola.
This route is remote and a bit wild and rugged, and has NO SERVICES until you reach Humboldt, so be sure to carry plenty of water and snacks. Can be ridden in either direction. Can start in Humboldt if you prefer.
Route Details
Where: Starts and ends in Iola.
How Far: Approximately 54 miles.
Surface: Gravel Roads
Terrain: A few nice hills
Services: No services except in Iola and Humboldt.
Cities: Humboldt, Iola

Route Map
Elevation Profile
Segments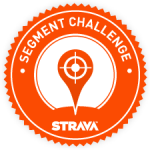 The following Strava segments have been established along this route. These segments can be used to compare your efforts to those of other riders, or to compare your own efforts over time. If you've not yet signed up for Strava, please do so. It's easy (and free!) to set up an account and log your rides using a GPS bike computer or smartphone. Also be sure to check out the Bike Allen County Strava Club.
Disclaimer
This route is provided without any warranties or guarantees. Like any activity, bicycle riding has inherent hazards, some of which can result in injury, death, or property damage. Persons using the route suggestions and/or downloading the maps posted here acknowledge that assumption of risk, and also further acknowledge by such use or reference of these route suggestions that no liability is assumed by the Producers of these maps and that participants in cycling along these routes release the Producers from all liability, claims, demands, losses or damages. See Full Disclaimer