A loop that starts and ends at Riverside Park in Iola. After a navigating a few low-traffic Iola streets, the route heads east out on Nebraska Road, then south on 2600th Road, west on Minnesota Road, and south on Old 169 Highway back to Riverside Park. Can be ridden clockwise or counter-clockwise.
Highlights: La Harpe Cemetery, Allen Center Schoolhouse at 2400 & Minnesota (private property).
The route name is derived from the route's primary roads: Nebraska (The Cornhusker State) and Minnesota (Land of 10,000 Lakes) … Husker Lakes … even though there are no actual lakes along the route, there are several ponds!
Route Details
Where: Starts and ends in Iola.
How Far: Approximately 17 miles.
Surface: Paved Roads
Terrain: Flat to mildly rolling.
Services: None, except in Iola.
Cities: Iola

Route Map
Elevation Profile
Segments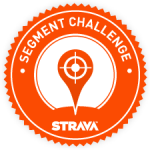 The following Strava segments have been established along this route. These segments can be used to compare your efforts to those of other riders, or to compare your own efforts over time. If you've not yet signed up for Strava, please do so. It's easy (and free!) to set up an account and log your rides using a GPS bike computer or smartphone. Also be sure to check out the Bike Allen County Strava Club.
Disclaimer
This route is provided without any warranties or guarantees. Like any activity, bicycle riding has inherent hazards, some of which can result in injury, death, or property damage. Persons using the route suggestions and/or downloading the maps posted here acknowledge that assumption of risk, and also further acknowledge by such use or reference of these route suggestions that no liability is assumed by the Producers of these maps and that participants in cycling along these routes release the Producers from all liability, claims, demands, losses or damages. See Full Disclaimer