This loop through northeast Allen County and northwest Bourbon County connects Moran, Mildred, and Mapleton (the "M-M-M"), along with Uniontown and Bronson, to make a great 56-mile loop with some challenging hills and lovely country.
The route begins in Moran (we recommend parking at the north end of town, and stocking up on provisions before heading out) and follows US-59 highway north to Mildred. US-59 typically carries little traffic, and has a nice shoulder. In Mildred, you can pick up snacks at The Mildred Store before heading east on West Virginia Road. After about 5.5 miles, you'll enter Bourbon County, where the route becomes Yellowstone Road. Ride this east until it curves south to become Yale Road, and take that on into Mapleton. From there, take 125th Street south to Maple Road, then head back west to Uniontown. The road between Uniontown,  Bronson, and Moran is Old 54 Highway, and it's a grand old road, with some great hills and curves.
There may or may not be services along this route, depending on when you ride it. The c-store in Moran is open every day, but the Mildred Store in Mildred, the Mapleton Cafe and C-Store in Mapleton, and Union Station in Uniontown have more limited hours. During Spring, Summer, and Fall, there are water hydrants available at the city parks in Mapleton, Uniontown, and Bronson.
Highlights along the route include 5 cemeteries, most including stones going back to the late 1800's: Fairview Cemetery east of Mildred, Osage Cemetery on Wisconsin Road near the Bourbon County line, Boulware Cemetery along 45th Street, Stevenson Cemetery along Yale Road, Woods Cemetery on Maple Road, and Uniontown Cemetery on Maple Road.
There are some tough hills near Mapleton, and between Uniontown and Bronson. The rest of the route is mildly rolling.
The route can be ridden either clockwise (as shown) or counter-clockwise.
Route Details
Where: Starts and ends in Moran.
How Far: Approximately 56 miles.
Surface: Paved Roads
Terrain: Flat to hilly
Services: C-stores in Moran, Mildred, Mapleton, and Uniontown
Cities: Bronson, Mapleton, Mildred, Moran, Uniontown

Route Map
Elevation Profile
Segments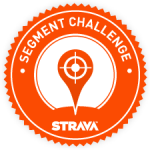 The following Strava segments have been established along this route. These segments can be used to compare your efforts to those of other riders, or to compare your own efforts over time. If you've not yet signed up for Strava, please do so. It's easy (and free!) to set up an account and log your rides using a GPS bike computer or smartphone. Also be sure to check out the Bike Allen County Strava Club.
Disclaimer
This route is provided without any warranties or guarantees. Like any activity, bicycle riding has inherent hazards, some of which can result in injury, death, or property damage. Persons using the route suggestions and/or downloading the maps posted here acknowledge that assumption of risk, and also further acknowledge by such use or reference of these route suggestions that no liability is assumed by the Producers of these maps and that participants in cycling along these routes release the Producers from all liability, claims, demands, losses or damages. See Full Disclaimer