The Wander to Welda 50K route is an out-and-back ride that begins and ends at Cofachique Park in Iola. The route follows the Prairie Spirit Trail north from Iola, through Carlyle, and on into Anderson County, past Colony, and on to the town of Welda.
The name of the route is an homage to the "Wander to Welda" route from Kansas City Ultra-Cycling, the regional randonneuring club. The original is a 100K (62.5-mile) route that begins in Ottawa and follows the Prairie Spirit Trail south to Welda and back. Our version is about half the distance.
There are no services in Welda (other than water and restrooms, in season, at the trailhead), but the Old School Flea Market offers a nice place to take a break and wander the aisles looking for interesting items.
Colony has several places to purchase food or drinks, including the Colony Community Diner and Convenience, Jeanie's Colony Foods, and the Half-Way House Saloon. There are also soft drink machines.
Use of gravel portions of the Prairie Spirit Trail State Park (i.e. outside of the city limits of Iola, Garnett, and Ottawa) requires a use permit from the Kansas Department of Wildlife, Parks, and Tourism. The cost of the permit is $3.50 per day (payable at trailheads), or $12.50 per year (available for purchase at retail establishments along the trail).
Note: Be careful in the "tunnels" beneath US-169 Highway, located just south of Welda, and between Carlyle and Colony — these locations can collect water and mud after rainy weather, and may be slick.
Route Details
Where: Starts and ends in Iola.
How Far: Approximately 36 miles.
Surface: Rail-to-Trails
Terrain: Flat, very mellow grades.
Services: Food and drink in Colony.
Cities: Carlyle, Colony, Iola, Welda

Route Map
Elevation Profile
Segments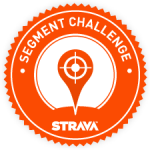 The following Strava segments have been established along this route. These segments can be used to compare your efforts to those of other riders, or to compare your own efforts over time. If you've not yet signed up for Strava, please do so. It's easy (and free!) to set up an account and log your rides using a GPS bike computer or smartphone. Also be sure to check out the Bike Allen County Strava Club.
Disclaimer
This route is provided without any warranties or guarantees. Like any activity, bicycle riding has inherent hazards, some of which can result in injury, death, or property damage. Persons using the route suggestions and/or downloading the maps posted here acknowledge that assumption of risk, and also further acknowledge by such use or reference of these route suggestions that no liability is assumed by the Producers of these maps and that participants in cycling along these routes release the Producers from all liability, claims, demands, losses or damages. See Full Disclaimer